Rev. E. Gray Bean, Pastor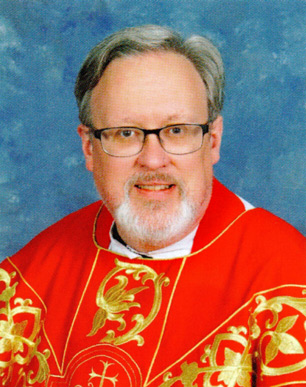 Born:

October 21st, 1967 - Anniston, AL
Grew up in Ragland, AL

Ordained:

2003 Cathedral of St. Paul, Birmingham, AL

Priestly Ministry:

2003 - 2004 St. Peter the Apostle Catholic Church, Hoover, AL
2005 - 2007 St. Patrick Catholic Church, Adamsville, AL
2005 - 2007 St. Stanislaus Catholic Church, Wylam, AL
2008 - 2014 St. James Catholic Church, Gadsden, AL
2014 - present St. Theresa of the Child Jesus, Leeds, AL
I am delighted to be among you at St. Theresa as your Pastor. It is with humility and reverence that I seek to follow in the footsteps of Fr. Jim Naughton who served so lovingly and faithfully over the years. I am also grateful to Bishop Baker for his support and confidence in allowing me to serve you.
So that you might know me better I thought perhaps I might write a few lines about my life thus far. I was born in Anniston, Alabama in 1967 of Earl and Janet Bean. My father passed away in 2007 and my mother still lives in Ragland. I have one younger sister, Kristie Thorne, who is married to J.T. and has three children: Hannah (25), Anna Grace (15), and Grayson (5). All but Hannah live in Terre Haute, Indiana. Hannah is married to Tyler Miller and lives in Pell City, Alabama.
I grew up in Ragland, Alabama and attended Ragland School for twelve years graduating from high school in 1986. I played baseball and excelled in music. I attended undergraduate school at Jacksonville State University on a music scholarship while supporting myself as a professional French horn player. I finished a B.A. in Music in 1990. From 1987 until 1993 I was Principal Horn of the Huntsville Symphony Orchestra. I also was a freelance musician in Birmingham, Chattanooga and Atlanta and attended the Eastern Music Festival and Tanglewood Institute.
In 1991 I entered graduate school at Samford University's Beeson Divinity School. I completed an M.A. in Religious Studies in 1993. For a year I studied at Oxford University in England and received a M.St. in Theology in 1994. It was my time at Beeson and Oxford that prompted my interest in church history and hence, the Catholic faith. Up until this time I had been an untroubled Baptist! I was ordained as a Baptist minister in 1992 but it proved to be short lived as I entered the Catholic Church during the 1996 Easter Vigil.
In 1998 I was accepted by Bishop David Foley as a Seminarian for the Diocese of Birmingham. I attended St. Meinrad Seminary and School of Theology receiving an M.A. in Church History in 2000 and the M.Div. in 2003. I was ordained a priest by Bishop Foley in 2003 at the Cathedral of St. Paul. I have served as a diocesan priest ever since.
My first assignment was as Parochial Vicar of St. Peter the Apostle Catholic Church in Hoover with teaching duties at John Carroll Catholic High School. After a year I became (simultaneously!) the administrator and later Pastor of St. Patrick Catholic Church in Adamsville and parish priest of St. Stanislaus Catholic Church in Wylam all the while continuing to teach at John Carroll (I taught for four years).
From 2008 until 2014 I was Pastor of St. James Catholic Church in Gadsden (the only Catholic Church in Etowah County). St. James has a school and a large Hispanic community which definitely broadened my experience. During this time I gradually completed my Ph.D. in history at the University of Alabama.
I have traveled in Canada, Germany, Austria, France, Spain, India, Africa, Israel, Egypt, Mexico, and Peru. I love books and have a large library. I also collect classical music albums and have at present over 15,000 vinyl records and cd's in my collection. I paint as a hobby though I am mostly self-taught. The back end of the garage is now my new studio! I like to fish and love professional baseball (Go Yankees!!!!). I have a housecat named Fiona. She loves people and will be a staple in the office and rectory.
The BIG question: Alabama fan or Auburn fan? Even though I attended the University of Alabama I never make a stand in public! I root for both! I am really an Ole Miss fan since my Uncle John played football for them in the 1950's!